Philip offers over 39 years of experience in residential, commercial and investment property sales. Since moving from England in 1964, Philip has worked in real estate sales, advertising, and as a film, stage and television actor. Philip speaks English, French and German. A former competitive and award winning body builder and accomplished pianist, Philip counts music, golf, tennis, skiing, and reading biographies of successful and famous people among his hobbies.
Community Involvement:
In spite of a very busy schedule, Philip volunteers his time as an active member of Kiwanis International, taking a very keen interest in the various Unicef / Kiwanis world-wide service projects. Philip also supports the CMN (Children's Miracle Network) for The Hospital for Sick Children in Toronto and is a member of Kiwanis International.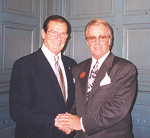 Philip and close friend, actor Roger Moore. Roger is a special ambassador for Unicef. Roger is shown here with Philip at Ryerson Polytechnic University in Toronto, Ontario after receiving an honorary degree recognizing him for his humanitarian services with Unicef/Kiwanis.
Whatever your real estate needs, including buying or selling a vacation, holiday or investment property in Toronto or worldwide, call Philip first at (416) 236-1241. You'll be glad you did!
Personalized Service
Since 1973, Philip has successfully represented clients in buying and selling residential and Income producing properties, guiding them the process not only with his vast experience and knowledge of the real estate business, but also with patience and understanding.
Philip takes great pride in providing his clients with ' Hands-On' service, clients are never handed over to an assistant. If you would like Philip to represent you in all your Real estate needs, contact him now, via e-mail at
info@philipwynne.com
, or by telephone 1t 416-236-1241. He will be delighted to provided you with his award winning service.
Whether your real estate needs, include buying or selling your home, a vacation or holiday property, or an income producing property in Toronto and the surrounding areas, call Philip first at (416) 236-1241. You'll be glad you did!
Since 1973, Philip has received numerous awards for his outstanding service, including:
The RE/MAX Lifetime Achievement Award
The RE/MAX International Hall of Fame
The RE/MAX Presidents Club
The RE/MAX Executive Club
Philip is also a Member of:
F.I.A.B.C.I. Fédération Internationale des Professions Immobilières
The International Real Estate Federation
Kiwanis International.
RELOCATING to Toronto or the Surrounding Areas ? Contact Philip at (416) 236-1241 for all the information you need.
His 39 Years of award winning services awaits you!
Referrals
If you need an Agent to help and advise you regarding Real Estate in any part of the world, please remember Philip also works with Agents around the world on a referral basis, so no matter where you are in the world, he can arrange an Agent to work with you on your real estate needs.